Trinity College provides a wide range of personal and academic supports for its students.
If you have a general or a specific learning disability (such as dyslexia), you may wish to register with Student Disability Services. Varieties of supports are available to disabled students within the College. Further information on these services can be found at here.
You can make an appointment to see staff of Student Disability Services:
• By phone: (01) 896 3111
• By text (deaf students): 086 3442322
• By email: askds@tcd.ie
• Or, by calling into the office (Room 2054, The Arts Building).
A tutor is a member of the academic staff who is appointed to look after the general welfare and development of the students in his or her care. Whilst your tutor may be one of your lecturers, the role of tutor is quite separate from the teaching role. Tutors are a first point of contact and a source of support, both on arrival in college and at any time during your time in college. They provide confidential help and advice on personal as well as academic issues or on anything that has an impact on your life. They will also, if necessary, support and defend your point of view in your relations with the college. Your personal tutor contact details are available to view via the student portal, my.tcd.ie.
Going to other staff members or the course administrator will only result in your being re-directed. If your tutor cannot be found, you should approach one of the other tutors or in an emergency, the Senior Tutor (phone 8962551).
Niteline: A confidential help-line for students run by students is available during term-time, by telephone 9pm-2.30am,
Phone: 1800 793 793
Web: http://www.niteline.ie/
The College Health Centre, House 47, College (beside the rugby pitch).
Appointments may be made in person or by telephone. This service is free to most students. Tel: 8961556 https://www.tcd.ie/collegehealth/
The Chaplains, House 27, College
Peter Sexton SJ (Catholic) 8961260
Steve Brunn (Church of Ireland) 8961402
Julian Hamilton (Methodist) 8961901
http://www.tcd.ie/chaplaincy/
Student Learning Development provides learning support to help students reach their academic potential. They run workshops, have extensive online resources and provide individual consultations. The service is offered by the College's Student Counselling Service.
To find out more, visit their website at http://www.tcd.ie/Student_Counselling/student-learning/
The Maths Help Room offers free assistance to students who are having difficulty with Mathematics, Statistics or related courses. It runs every week of term and at certain times out of term. The Maths help room is a drop in centre, where you can bring in a maths or stats question and get some help. It is run by the School of Mathematics and further information is available at here.
Academic issues should be taken to the lecturer concerned. First year students are sometimes reluctant to approach lecturers with academic problems, but lecturers are here to help you Many academic staff, including the Director of Studies, have 'office hours', i.e. times when they are available in their rooms to meet students without a prior appointment. These are usually posted on their office door or available at the school reception. It is helpful to staff if a problem can wait until one of these times.
Programme or wider course issues should be taken to the class representative (you will have to elect one), or the Students' Union Education Officer (email education@tcdsu.org, web http://www.tcdsu.org) who should in turn take them up with the Course Director. Of course if in doubt, speak to your tutor first.
Group study rooms are available during Library opening hours to registered students in groups of two or more who wish to work together on projects and assignments. One signature and ID is required per booking.
Berkeley Library
Location: Basement Area
Booking: In person at the Duty Librarian's desk using the dedicated booking PC.
Hamilton Library
Location: Lower Level, adjacent to Photocopying Room
Booking: In person at the Hamilton Service Counter using the dedicated booking.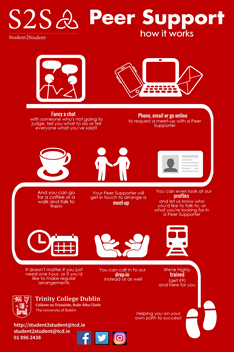 From the moment, you arrive in College right the way through to your end of year exams Student 2 Student (S2S) seeks to make sure your first year is fun, engaging and a great foundation for the rest of your time in Trinity. You'll meet your S2S mentors in Freshers' Week and they'll make sure you know other people in your course before your classes even start. They'll keep in regular touch with you throughout your first year and invite you to events on and off campus. They'll also give you useful information about your course and what to look out for.
Mentors are students who have been through first year and know exactly what it feels like, so you should not worry about asking them a question or talking to them about anything that's worrying you. S2S also offers trained Peer Supporters if you want to talk confidentially to another student or just to meet a friendly face for a coffee and a chat. S2S is supported by the Senior Tutor's Office and the Student Counselling Service.
NOTE: IF YOU HAVE A CONCERN OF ANY SORT, PLEASE TALK TO SOMEONE STRAIGHT AWAY
Trinity College has a significant number of diverse student societies which are governed by the Central Societies Committee. They provide information on the societies including how to get involved and even how to start your own society! See http://trinitysocieties.ie/ for more details. Students are encouraged to get involved. Trinity College also has a huge range of sports clubs which are governed by the Dublin University Athletic Club (DUCAC). See
http://www.tcd.ie/Sport/student-sport/ducac/?nodeId=94&title=Sports_Clubs for more details.
The Trinity College Students' Union (TCDSU) is run for students by students. TCDSU represent students at college level, fight for students' rights, look after students' needs, and are here for students to have a shoulder to cry on or as a friend to chat with over a cup of tea. Students of Trinity College are automatically members of TCDSU. They have information on accommodation, jobs, campaigns, as well as information pertaining to education and welfare. For more information see https://www.tcdsu.org/.
The Trinity Graduate Students' Union (TCD GSU) is the main representative body for postgraduate students in Trinity College . For more information see https://www.tcdgsu.ie/.
In the event of an emergency, dial Security Services on extension 1999 (+353-1-8961999 from a mobile phone or an external landline). Security Services provide a 24-hour service to the college community, 365 days a year. They are the liaison to the Fire, Garda and Ambulance services and all staff and students are advised to always telephone extension 1999 (+353 1 896 1999) in case of an emergency. Should you require any emergency or rescue services on campus, you must contact Security Services. This includes chemical spills, personal injury or first aid assistance. It is recommended that all students save at least one emergency contact in their phone under ICE (In Case of Emergency).
Trinity College Dublin uses personal data relating to students for a variety of purposes. We are careful to comply with our obligations under data protection laws and we have prepared a short guide (available at https://www.tcd.ie/info_compliance/data-protection/student-data/) to ensure you understand how we obtain, use and disclose student data in the course of performing University functions and services.
---